Bahamas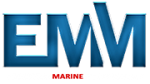 12 Port of Call Drive, Freeport, Bahamas
EXECUTIVE MARINE MANAGEMENT LTD.(EMM) is dedicated at providing professional, prompt and safe ship services for all vessels making Freeport, Grand Bahama their next Port of Call. Underwater, divers, Photographic, Inspections, CCTV/Video, Hull coating, Un ...
Read More...

A1 Queens Highway, Freeport, Bahamas, F-42415
www.hullcleaningbahamasltd.com
Hull Cleaning Bahamas LTDBeing the sister company of an International leader in underwater ship husbandry, HCB is equipped with highly skilled diving personnel and project coordinators. HULL CLEANING, PROP CLEANING/POLISHING, UNDERWATER SURVEYSUsing state ...
Read More...