Croatia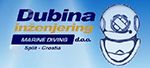 Alojzija Stepinca 15, Split, Croatia, 21000
Comercial Diving Company "Dubina Ing Ltd." is founded in 2001. in Split. The company is specialized in the performance of commercial diving contractors and for underwater examinations of ships and off shore buildings, diving techniques and ROV technology. ...
Read More...

Pletenci 22/6, Rijeka, Croatia
Aquasub p.z.r. Subsea Service Company is established in 1986 in Rijeka, Croatia. During all those years, following modern technology for different kinds of underwater services, grew up in high-grade company, prepared for performing the most required kind ...
Read More...

Setaliste XIII. Divizije 40, Rijeka, Croatia, 51000
In-water survey of ships and mobile offshore units